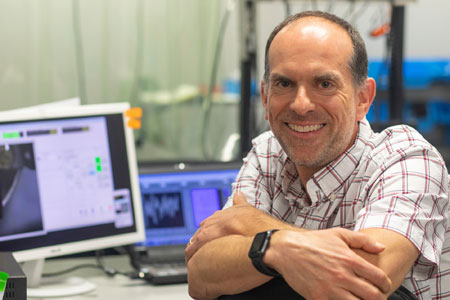 28 Aug

UofSC startup breaks ground in nano-optical manufacturing
Acquisition by giant photonics firm facilitates continued university-industry partnership
Talk to Thomas Crawford about his recently sold startup company, and he sounds like someone who just got off of a super-fast rollercoaster — exhilarated but glad to have both feet back on the ground.
Crawford, a physics professor at the University of South Carolina who arrived in 2005 with extensive research experience in disk drive technology, directed his lab in recent years in developing a novel manufacturing process that uses disk drive technology to assemble magnetic nanoparticles. When it became obvious that industry was interested in using the new technology, MagAssemble was born. Several university physics graduates comprised the startup's staff, including chief scientist Longfei Ye, who earned his doctorate under Crawford's direction.
"Traditional electronics fabrication technology is expensive for manufacturing micro- and nano-optics," Crawford says. "Because the size of photonic devices are tied to the wavelength of light (400-700 nm for visible light), the same scaling rules that have pushed integrated circuits to single nanometer sizes cannot be applied to photonics, which is where MagAssemble's method for nano-manufacturing comes in.
"It would cost industry $10 million to $20 million using semiconductor manufacturing to create patterned optical materials that we can make with equipment costing significantly less. The lack of scaling means the higher cost is passed along to the customer, and these costs have inhibited development of nano-optics."
It's been an amazing experience — a really dicey, by-the-seat-of-the-pants kind of experience to be honest.

Thomas Crawford, physics professor
MagAssemble's patented "pattern transfer nanomanufacturing" process is used to make custom diffractive optical elements and has potential applications ranging from smart phone cameras to optical fiber communications to hyperspectral imaging. This past May the intellectual property developed by Crawford and his team was acquired by Thorlabs, one of the leading optics and photonics companies in the world.
"It's been an amazing experience — a really dicey, by-the-seat-of-the-pants kind of experience to be honest," Crawford says. "Ninety out of 100 startups fail not because they don't have good technology but because they don't have any or enough customers. We were able to stay alive just long enough to interest a company like Thorlabs, which is now providing the funds needed to take it the rest of the way."
The successful sale of Thomas Crawford's startup company is a testament to the university's SmartState Center for Experimental Nanoscale Physics, one of more than two dozen centers established to foster research that leads to commercialization, economic development and job creation.
Thorlabs has retained MagAssemble's staff and is leasing space in the Horizon building to continue research collaboration with university faculty and students.
Jason Williamson, a 1993 university graduate and CEO of Cirtemo, partnered with Crawford to help commercialize MagAssemble's manufacturing process. Williamson had previously worked with university chemistry professor Mickey Myrick to develop another startup called Ometric, which made patented optical filters and was acquired by energy-giant Halliburton in 2011. Williamson licensed the remaining non-energy related intellectual property of Ometric to form Cirtemo (Ometric spelled backwards), which was also sold to Thorlabs in May.
Williamson is now working in Thorlabs' new division in Columbia, which is investing heavily in personnel and manufacturing equipment.
"Thorlabs got excited about the technology at Cirtemo and MagAssemble and liked the idea of starting a Southeastern location," Williamson says. "For me, being from Columbia and seeing what the potential is, it's super exciting. They're allocating millions to hire the team and bring in the equipment we need.
Crawford is excited, too, not only to see his former startup blossom, but also to return to what he loves.
"To have exited all of this with a positive sale makes it satisfying," he says. "Now I'm really excited to get back to research and innovation."
Original story: UofSC News